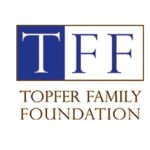 We're honored to be supported by the Topfer Family Foundation. We were able to catch up with Cathy McCann, Chicago Program Officer, for a Q&A session to gain a little insight into their organization and their support of health education.
Can you please tell us about your background and how you became involved with Candor Health Education?  The Topfer Family Foundation has supported Candor Health Education (formerly Robert Crown Center for Health Education) since 2008. Our involvement began when one of our trustee's children experienced the drug education classes while in school.
What inspired you to become one of Candor Health Education's most generous foundation supporters? One of the Foundation's focus areas is Children's Health. According to CDC data, "accidents," which include accidental overdoses, are the number one cause of death for adolescents aged 15-19 years. This data underscores the importance of supporting educational efforts like Candor Health Education's Science Behind Drugs programs.
Is there anything about Candor Health Education that you feel the public should know? In our 12 years as a supporter of Candor Health Education's drug education programs, we have observed a great team of highly skilled health educators who don't shy away from difficult questions that are presented to them by students.
How do you think changing the name to Candor Health Education will benefit the organization? Candor Health Education is a great name for this organization who takes an upfront, honest approach to student learning. Sex and drug education can be touchy and uncomfortable topics. I can't imagine trying to present these topics to a group of middle- and high-school students! We have been proud to support an organization who takes a candid approach to these topics.
How does it feel to know that your generosity and service Candor Health Education is making such an incredible impact on thousands of students each year? As a Foundation, we often ask ourselves, "Are we making a difference?" I truly believe that the difference this program makes is by helping students make educated decisions about drug use. So, while we can't say that what these students learn in the 7th grade will help them to refrain from drugs as they go into high school and adulthood, we can say that this program teaches them about the addictive nature of drugs and the negative impact is has on their body – which hopefully will translate into smart decisions as they get older.