As a Candor Health Educator, we have been asked some interesting questions when we're delivering a program to the 4th-8th graders. Everything from "Why do we grow hair down there?" to "Do identical twins have the same fingerprints?". These tough questions many times are the reasons that parents shy away from "the talk". They just don't have all of the answers. We're here to tell you…that's OK!
One study showed that elementary and middle school students only receive an average of 1.9 to 5.4 hours of sex education during the school year. Unfortunately, families cannot solely rely on schools to answer children's questions about sex education. That means it is up to parents, guardians, or trusted adults to help fill in the blanks.
Puberty can begin as early as age eight and continue through age sixteen and as we know ALOT happens…both physically and mentally. Therefore, it's not surprising there are a ton of questions. Here are a few tips to help with "the talk":
Let the Internet Help Answer Questions. Often children will independently go to the internet to look for answers, this can be a scary black hole…especially when searching for sex education (you can image what a search result may provide if the search isn't crafted properly). Use the internet TOGETHER. Search those tough questions and vet the search results to identify the credible sources…and do it sooner rather than later. The earlier "the talk" happens, the easier it will be transitioning conversations from wearing deodorant to wearing a condom.
Grab the Keys and Get in the Car. Believe it or not, the car is the perfect place to start the talk. It is a private environment with minimal eye contact. A car provides a setting with a captive audience and at first it may seem awkward, but it opens the door for future conversations. Use scientific terms of the body to lay the groundwork for later conversations and reduce the stigma of sex. Do not be afraid to discuss hard topics like consent, abstinence, sexual orientation, and sexual intercourse.
Start with a Story. Depending on the age, a conversation can start with a story, a reference to a song or a character in a movie. Some examples may include:
"Remember when we watched that TV show last night and he made fun of his sister's body odor? It may be time to talk about deodorant and hormone changes going on in your body as well".
"Remember that movie last night about the young couple together, how do you think he/she felt being pressured like that?"
"Do you know what those song lyrics are referring to? You have to be careful with some songs because it doesn't always mean what you may think".
Use a Two-Way Journal. If a child is feeling awkward, consider using a two-way journal where questions and conversations can be shared without being face to face. Journaling can be a valuable tool for children while navigating the ups and downs of puberty and human sexuality.
Children are curious, they want to know about their menstrual cycle, hormones, STIs (sexually transmitted infections), pregnancy and things that may make a person blush, but may not know how to ask. They will naturally explore those things that they are most comfortable…the internet, social media, talk with their friends, etc. All of which, without proper context or guidance, may provide more challenges than answers. We need to start the conversation and keep these conversations going. Talk openly, talk honestly, and share those values that are important within your family.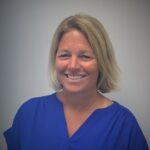 Written by: Kimberly Fronk-Health Educator, Candor Health Education