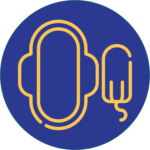 The cost of menstrual products (estimated $250-300/year for the average woman) is probably not on your mind today, but it is on the heart of the staff at Candor Health Education in Hinsdale.
Recent research found that almost two-thirds of low income women in the U.S. could not afford menstrual products in the last year, while nearly half sometimes had to choose between buying food or menstrual products.
This is called 'period poverty' which refers to the social, economic, political, and cultural barriers to menstrual products, education, and sanitation.
The staff at Candor Health Education is now seeking supplies for Chicago area female students before the end of the school year. (In many schools, menstrual products are provided to students.)  The not-for-profit organization is asking for donations to a list it has created on Amazon. See the list>
Thank you for any attention you can provide for this important cause.