Teen dating violence (TDV) is defined as "a pattern of abuse or threat of abuse against teenage partners." Teen dating violence occurs with sobering prevalence, effecting 1.5 million high school students each year. Female and LGBTQ+ students are more likely to experience dating abuse and/or violence than their male, cis-gendered peers. TDV is considered an adverse childhood experience, therefore impacting someone's mental, emotional, and physical health throughout their lifetime. Like other risk factors for adverse childhood experiences, low-income, ethnic and racial minorities, along with other marginalized communities, are more likely to experience TDV at higher rates. Teens who experienced dating violence are more likely to experience depression, anxiety, suicidal ideation, and engage in high-risk or unhealthy behaviors.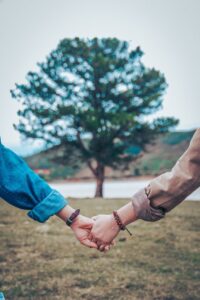 As common as it is to experience some form of intimate partner abuse, 48% of teen and young adults admit to never talking to anyone about their experience, with 57% waiting longer than 6 months to seek help.
February is National Teen Dating Violence Awareness Month (TDVAM). The month of "love" is an appropriate month to empower young people through education and engagement opportunities; teaching them that "healthy does not hurt" and that violence and disrespect do not exist in loving, respectful relationships. The CDC, FVPSA, Futures Without Violence, and the National Domestic Hotline are just a few organizations working to help young people understand what dating abuse looks like, key elements to having healthy relationships, and how to get help.
Types of Teen Dating Abuse
Physical: hitting, biting, slapping, shoving, punching walls, pulling hair, burning.
Sexual: non-consensual sexual touching or contact, non-physical sexual behavior like sharing sexual images or information about someone without their consent, or non-consensual sexting and sextortion or blackmail.
Psychological/Emotional/Social: verbal or non-verbal communication, controlling partner's activities, isolating, insulting, threatening, blaming, demanding, ghosting or silent treatment, lying, gaslighting, teasing, degrading or negative comments, etc.
Stalking: repeated pattern of unwanted attention or contact which causes someone discomfort, fear, and feelings of being unsafe.
Warning Signs
Excessive jealousy, volatile behavior or mood, pressuring or not respecting boundaries, blaming behaviors, controlling social movements or activity, bullying or threatening behaviors, false accusations are all potential warning signs of teen dating abuse.
Possible Signs or Symptoms of TDV
Injuries, excessive contact like texting or in person with abuser, declining grades and interest in beloved activities or people, fear of disagreeing with partner, etc.
Help for Parents and Families?
Data shows parents misunderstand the prevalence of teen dating violence and aren't likely to recognize the signs of abuse in their own child. A false sense of confidence causes them to misjudge what their child knows about the risks and warning signs of teen dating violence or leads them to think their child is too young or not at risk. Additionally, parents often know even less about the abuse their child might experience in online or social media spaces. (78% of online abuse and harassment occurs through text or messaging apps.) What help is there for parents? Many supports involve parents having honest and open conversations with their children about what healthy relationships look and feel like. The following guide outlines for parents what teen dating abuse is, ways to talk about and support a child before or while dating, as well as how to support that child who may be the one causing harm to another.  Parent Guide 2021 (loveisrespect.org)
Help for Teens and Young Adults
Education and empowerment can reduce physical and sexual dating violence by 60%.  School interventions can greatly reduce teen dating violence, specifically physical and sexual abuse, by as much as 54%. The CDC's "Dating Matters" and the National Domestic Violence Hotline's project "Love is Respect" both offer strategies for promoting healthy teen relationships through comprehensive programming and access to the knowledge and supports teens need. "Love is Respect" is a project working to magnifying youth voices, specifically. This year's theme "Be About It" was created by the project's Youth Council to highlight how education alongside community and family engagement can empower young people to seek and build relationships that reflect healthy behaviors and boundaries. Below are two comprehensive resources for teens and their families.
2211-TDVAM-Action-Guide_FINAL.pdf (loveisrespect.org)
Dating Matters: Strategies to Promote Healthy Teen Relationships (cdc.gov)
Hotlines (Love is Respect, Parent Guide, 2021) 24/7 support is available for anyone seeking help.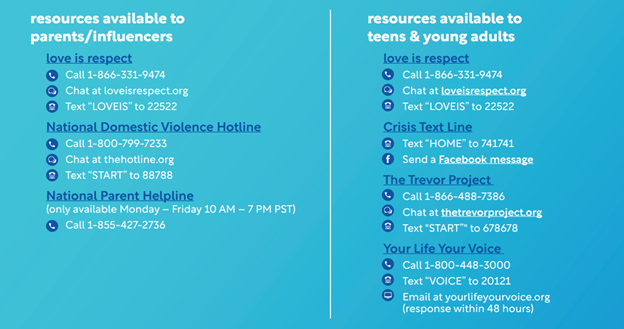 Resources
Shifting Boundaries: Final Report on an Experimental Evaluation of a Youth Dating Violence Prevention Program in New York City Middle Schools (ojp.gov)
Preventing Teen Dating Violence (cdc.gov)
Teen Dating Violence: The Epidemic (vawnet.org)
The Facts on Tweens and Teens and Dating Violence.pdf (futureswithoutviolence.org)
Teen Dating Violence Awareness (teendvmonth.org)
2023 Teen Dating Violence Awareness Month (TDVAM) | The Administration for Children and Families (hhs.gov)
Written by Helen Baker – Health Educator